Spaze Invaders

Filename
Spaze Invaders
Summary
Classic shooting game
Authors
Ticalc.org URL
TI-83 version 1.1
TI-84+CSE version 1.0.0
Release Date
June 1, 1997
Compatibility
TI-82/83(+)/84+/84+CSE
Language
Spaze Invaders was the first assembly shooting game released for the TI-83 calculator, and it was programmed by Hannes Edfeldt. The game is based on the popular game with the same name that was originally released by Taito in 1978, and has the same storyline:
Evil aliens have come to earth because they're out of hamsters on their planet and therefore plan to kidnap every single little hamster on earth. You're Harry Hamster and your mission is to save your friends from the malevolent aliens. You can't nuke your foe this time, use your laser instead. The aliens also plan to kidnap the scriptwriters and the director of X-Files, but don't bother about that.
Significance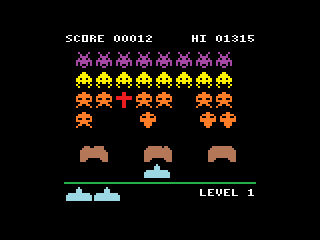 Released in 1997 by Hannes Edfeldt, Spaze Invaders is the first known assembly program for the TI-83 calculator. It is known as one of the classics due to its status as the first TI-83 assembly game, its similarity to the old arcade game of Space Invaders, and its long time popularity on the TI calculators.
One notable difference to the original arcade game is that Spaze Invaders features a boss fight every 3rd level.
The first TI-83 release was a nostub program, which ran from the home screen by using "prgmSPAZE". This even predated Zasmload, and thus it had its own loader program, ZSPZA, which then loaded the binary ZSPZB.
Later releases/ports were adapted for AShell, Ion, etc. eliminating the need to have its own loader program, thus reducing program size slightly.
In 1998 it was ported to the TI-82 by Sam Heald, and in 2014 James Vernon released a port for the TI-84+CSE featuring colour graphics.
Documentation
Taken from the TI-83 readme file:
How to install

Send the file spaze.83g to your TI-83, then run SPAZE. Never run ZSPZA or
ZSPZB.

How to play

At the title screen, select degree of difficulty with up and down and
then press 2nd to start. Press left or right to move your ship, 2nd to
fire lasers. Press MODE to pause the game and show your score. Press
MATH to hide the game from your mathsteacher. Press CLEAR to quit.
Development History
June 1, 1997 — Version 1.0 released for TI-83.
June 4, 1997 — Version 1.1 released for TI-83 (fixed the "Bill Nagel" bug).
January 12, 1998 — Version 1.2 released for TI-83 (AShell version).
July 15, 1998 — Version 1.3 released for TI-83 (patched AShell version).
November 23, 1998 — Version 1.4 released for TI-82 ASH (first port).
December 1, 1998 — Version 1.5 released for TI-82 (patched ASH version).
May 28, 2001 — Version 1.1 released for TI-83(+) Ion.
March 29, 2014 — Version 1.0.0 released for TI-84+CSE.
Related Products
page revision: 6, last edited:
01 Jul 2014 00:46